Individual Member Benefits
Whether you are a seasoned professional or just starting, an AASM membership provides resources, tools and guidance to stay ahead:

$125 Free
Free Journal of Clinical Sleep Medicine yearly subscription

$249 Free
Free journal SLEEP yearly subscription

$225 Off
Savings on annual SLEEP meeting registration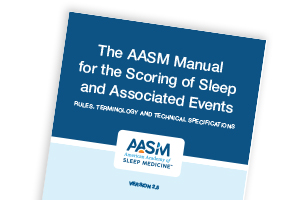 $20 Free
Free AASM Scoring Manual online access
STAY INFORMED

Stay up to date on the latest advancements in the sleep field
Members receive free online access to Journal of Clinical Sleep Medicine and Journal SLEEP, two leading peer-reviewed journals in the field.
Stay up-to-date on trends, events and important topics in our weekly e-newsletter.
A weekly e-newsletter that provides industry news and updates, analysis of health care trends and innovations, and research highlights.
An AASM Podcast to help keep up on the latest developments in the practice of clinical sleep medicine.
Test your knowledge with a free interactive case study for you to evaluate and review.
Follow the recognition and advancements of your peers in this quarterly publication featuring member-submitted content.
---
PROFESSIONAL DEVELOPMENT

A wealth of career resources and enhance your professional potential.
Sign up for courses, meetings, and online education that provide knowledge of clinical resources needed to treat patients with sleep disorders. Members also save $200 on registration for the SLEEP Annual Meeting.
Free to AASM members, AASM MOC self-assessment exams are available to help you earn CME credits while working toward your MOC requirements. There are also a ton of other opportunities to earn CME or CE through the AASM CME program.
Apply to tell us how you have made significant contributions to the field and get recognized by your peers. See requirements.
Explore exclusive job openings, set job alerts, read career advice articles and more.
AASM Foundation and American Medical Association (AMA) Foundation have partnered to fund a scholarship that is being administered by the AMA Foundation's Physicians of Tomorrow program. A $10,000 scholarship is provided to a medical student who is interested in pursuing a career in sleep medicine, maintains academic excellence and demonstrates a financial need.
---
MAKE CONNECTIONS

Connect with members from diverse backgrounds to exchange ideas and collaborate
The online community is a central place for discussions, resource sharing, mentor matching, networking and more.
Search and connect with over 10,000 members for personal and professional advancement.
Get vital membership and practice information by following @AASMmembership on Twitter. New to Twitter? Check out our Twitter 101 guide for an introduction to the platform.
Participate in the AASM Mentor Program and connect with aspiring and experienced professionals in the field of sleep.
Connect with over 5,000 attendees of researchers, clinicians, technologists, students, and other healthcare professionals at the annual SLEEP meeting.
Members Only, FREE
Latest in sleep medicine news & events
Latest News  |  Other Resources
---
Up to $2,500
Members save on educational products
Other Resources  |  Professional Development  |  On-Demand Learning  |  Student/Resident
Members Only, FREE
Current AASM initiatives & developments
Latest News  |  Other Resources
---
Join the best and brightest when you become a member of the AASM!
The AASM Membership term runs on a calendar year basis (January to December)