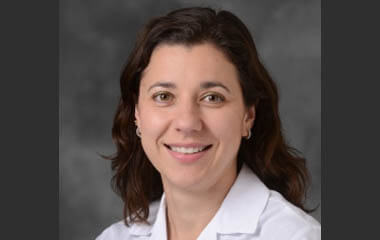 Name:  Virginia Skiba, MD
Specialty: Neurology
Practice Setting: multi-specialty medical group
Years in Practice: 4 years doing sleep medicine, 14 years since medical school
A typical day in my sleep medicine practice:
I am a neurologist by training.  I started in the Navy which allowed me to see places I would not have visited otherwise, to meet interesting people, and to experience several different clinical and administrative environments.  I then decided to come back to my home state of Michigan and settle into full time sleep medicine.   One of the reasons I like my position is every day is little bit different!  In general, I work about 8-9 hrs a day.  I start at 8 am on most days, but I also have days I start early at 7 am or later at 11 am. Most of this time I spend seeing patients in clinic, but I also have 1-2 hours a day of dedicated time to read sleep studies. I also supervise sleep medicine fellows and other trainees, work on various process improvements for our division and our fellowship, and collaborate on research.
The most rewarding part of being a sleep physician:
I find it most rewarding to work with patients who struggle initially, but remain motivated and with some extra support they are able to follow the treatment recommendations and feel so much better!
The most challenging part of being a sleep physician:
Medicine is moving towards consumerism.  On the one hand that is good because patients may be more involved in their health care and decision making.  On the other hand, sometimes it feels there is more of a focus on providing superficial aspects of customer care rather than quality medical care.
One question every physician should ask before pursuing sleep medicine:
What is the one thing you could not live with?  For me, I don't like monotony.  Fortunately every day is a little different: different schedule, different people, and different stories.  I find it rewarding to listen to patients' individual stories and struggles; you never know who is sitting on the other side of the door!  My day is a mix of clinic work and reading studies.  I also find it invigorating to be involved with education of trainees, other staff physicians and even the community.
One resource that has helped me as a sleep doctor:
At this point in my life and my career, one of the greatest daily struggles is balancing work life with family life.  Even though in sleep medicine I don't have an overwhelming overnight or weekend call schedule, clinic life is very busy.  My husband has been a great support in helping take care of our two little ones, as well as taking care of all these other little daily things that are not so little once you add them all up!
Advice to someone interested in pursing a career in sleep medicine:
Know what keeps you ticking!  Sleep medicine is a great sub-specialty because there are so many opportunities to work in various clinical settings with ability to do part-time sleep and part-time another specialty, so many new advances and opportunities for education and research, and the ability to make a real difference in people's lives. Be honest with yourself and know what you are looking for in a position and ask yourself if this is something you see yourself doing for years to come.

In Their Own Words:  Current and Former Sleep Fellows
This profile from Michigan Medicine introduces you to several current and former sleep medicine fellows from the training program at the University of Michigan.
They describe how they developed an interest in the sleep specialty, why a sleep fellowship appealed to them, what makes the sleep field unique, and much more.